Cinephobia Releasing is proud to announce the North American Premiere of THE LATENT IMAGE, a twisted, beautifully crafted deep dive into the imagination that explores just how deadly inspiration can truly be. From writer-director Alexander McGregor Birrell (Sleepaway Slasher), the film stars Joshua Tonks and Jay Clift as two men caught in a deadly game of cat and mouse that threatens to turn a dark fantasy into a stark, inescapable reality. The LATENT IMAGE is set to screen in Los Angeles on Thursday, September 7 at the Lumiere Music Hall.
---
It was interesting how the movie played out the thoughts in the character Ben's head as he was writing his book. The only problem was I couldn't distinguish between what was real and what was imagined. It was like, oh! OK! And then you move on.
The acting was good and the characters were OK. The antagonist did not come across as too scary or vicious (just a little creepy) and the writer also seemed to lack a bit of emotional intensity considering the danger he was facing.
I wouldn't worry about this movie giving anyone nightmares but it fits the horror genre which is always fun.
I especially liked the concept and the film's underlying direction, which came to an understandable and satisfying (under the circumstances) conclusion.
---
A stranger appears at a young thriller writer's cabin deep in the American wilderness. Mysterious, intriguing, attractive, and terrifying, has he found the perfect inspiration for his new book, or are his darkest fantasies about to come to life?
"The Latent Image is a striking example of indie genre cinema – taut, creepy, and smart with a dense atmosphere of sexually charged dread, what's not to love", said Ray Murray, President of Cinephobia Releasing.
THE LATENT IMAGE centers around thriller writer Ben, who, while struggling for inspiration, retreats to an isolated rural cabin to start work on his latest novel. One night, he wakes to find a wounded man in the cabin claiming to be a hunter whose car had broken down nearby. Intrigued by the intruder, Ben decides to secretly use him as inspiration for the antagonist in his new book. But, as the man helps Ben enact increasingly dangerous scenarios for the story's captive protagonist, Ben's ambition may not only destroy the peaceful world he's created but take his life in the process.
"Horror films and thrillers have always been my passion", said Birrell. "The cast and crew really gave their all and it was a wonderful experience to see and feel the scenes coming to life on set, even if that sometimes meant feeling real fear in those dark woods!"
THE LATENT IMAGE world premiered at London's Soho Horror Film Festival and went on to screen at Outshine LGBTQ+ Film Festival and Queer Screams Festival. The film is set to screen at the Fargo Moorhead LGBT Film Festival this September.
"Having The Latent Image come to North American audiences is a dream come true", said Birrell. "This film is a love letter to a lot of US genre cinema and I hope people enjoy it."
---
Alexander McGregor Birrell was born in Liverpool, UK. Awarded a BFI Skill Set scholarship, he attended the London Film School and has produced work that has been shown in venues such as London's National Gallery and the AestheticaShort Film Festival amongst others. THE LATENT IMAGE, his theatrical feature debut, is based on a short film he directed that was featured on the streaming platform Dekkoo from 2019 to 2021.
---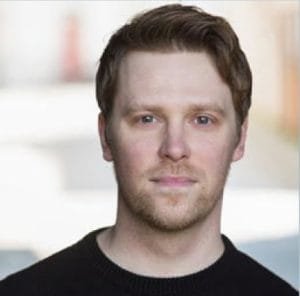 Born and raised in Sutton Coldfield, England, Joshua Tonks graduated from The Arts Educational Schools of London and has both acted and written for the stage and film. He has starred in both the short and feature films of The Latent Image as well as So Far, So Close (2021). His theater work in theatre includes the Olivier-nominated production of "The Sound of Music" at the Regent's Park Open Air Theatre and the World Premiere production of "Tiger Bay" at the Wales Millennium Centre.
---
Canadian-born Jay Clift graduated from Vancouver's theatre conservatory, Studio 58. His theater resume includes 22 acting roles and is a two-time nominee and one-time winner of the Jessie Richardson Theatre Award. In 2014 Jay was recognized as the most promising newcomer in Canadian Theatre with the prestigious Sam Payne Award. Jay's film roles include Leon Lee's 2016 feature film, The Bleeding Edge and Ash(2019) as well as television appearances in DC's Legends of Tomorrow, Batwoman, and Supergirl.
---

THE LATENT IMAGE
Written and Directed by Alexander McGregor Birrell
Produced by Cédric Andries
Starring Joshua Tonks, Jay Clift, William Tippery, Michael Varrati
UK I 2022 I Horror, LGBT I 83 minutes