When Dogs Heal: Powerful Stories of People Living with HIV and the Dogs That Saved Them, (3/2/2021) written by Jesse Freidin, Robert Garofalo, Zach Stafford, Christina Garofalo with photography by Jesse Freidin.
Three well-known leaders in their fields – Award-winning dog photographer Jesse Freidin, adolescent HIV+ specialist Dr. Robert Garofalo, and LGBTQ advocate and journalist Zach Stafford – offer a refreshing, unique portrait of HIV infused with a deep message of hope.
Each extraordinary profile shows the power of the incredible bonds between humans and their canine companions, whether that means combating loneliness and stigma, discovering the importance of unconditional love, overcoming addiction, or simply having a best friend in a time of need.
When Dogs Heal shares the stories of a diverse set of people who are thriving and celebrating life thanks to the compassion and unconditional love of their dogs. A portion of the proceeds from this book, benefits Fred Says, an organization dedicated to financially supporting HIV+ teen health care.
---
What a wonderful book full of sorrow and good people who have faced difficult times and situations, only to come out the other side with a sense of belonging and love based on the unconditional love they all received from the amazing dogs that have rightfully earned the phrase "man's best friend".
Each of these remarkable stories and beautiful photographs tells the stories of the healing power a dog has over our physical and mental health simply by being themselves. Reading this book and looking at these great photos kept reminding me of the remarkable dogs that I have had in my own life and how each and every one of them was nothing less than completely loyal offering their full attention and affection. Do yourself a favor and read this book!
---
ABOUT THE CONTRIBUTORS
JESSE FREIDIN is America's leading fine art dog photographer. For the past fifteen years, his portraiture has studied the deeply healing power of the human-animal bond, telling a contemporary story of companionship and love that truly honors the role dogs play in our lives. Jesse's dog portraits are in private collections throughout the United States and have been exhibited in galleries from coast to coast.
His photography has appeared in Vogue, Cosmopolitan, the New York Times, Huffington Post, and many more. He is the author of Finding Shelter: Portraits of Love, Healing, and Survival published by Lyons Press in 2017, as well as the Doggie Gaga Project-a personal project that became an overnight media sensation. He works with clients in Santa Fe, San Francisco, and beyond. For information on booking a fine art dog photography session, please visit www.jessefreidin.com.
ZACA STAFFORD is an award-winning journalist, editor, and television host. Most recently he worked as the anchor of the BuzzFeed News morning show AM to DM and the editor-in-chief of the Advocate magazine. Prior to these roles, he served as the chief content officer of Grindr and editor-in-chief of INTO, the award-winning LGBTQ digital magazine.
He has also served as the editor-at-large of Out magazine and was an award-winning journalist at the Guardian. Zach regularly provides commentary on radio and podcasts and has appeared on the BBC, CNN, and The Daily Show with Trevor Noah. He is the co-editor of the book Boys, An Anthology, and creator of the documentary Boystown. In 2019, he was named to the Forbes 30 Under 30 list and to the Root's list of the 100 most influential African Americans.
CHRISTINA, GAROFALO is an LA-based TV writer and journalist. She's covered travel, food, and culture for more than a dozen publications, including Afar, Huffington Post, Jetsetter, Paste, Resident, Robb Report, and ShermansTravel. She's served as an editor for ShermansTravel, Robb Report, and Gilt.com. Christina is also the voice of Fred Says on social media. This is her first book.
ROB GAROFALO has devoted his career to caring for adolescents living with HIV. He is a physician and a professor of pediatrics at Northwestern's Feinberg School of Medicine as well as the division head of adolescent medicine at Ann & Robert H. Lurie Children's Hospital of Chicago. Rob codirects the Lurie Children's Hospital Gender Identity & Sex Development Program and is a national authority on the health care of LGBT youth and youth living with HIV.
Rob has led several HIV prevention research projects funded by the National Institutes of Health and the Centers for Disease Control and Prevention. Rob founded Fred Says, a nonprofit charity that supports organizations across the US that care for HIV-positive youth. He named the charity after his dog Fred. whom he credits for saving his life after his own HIV-positive diagnosis.
---
Lerner Publishing Group
Follow Lerner Publishing Group at The Lerner Books Blog, on Facebook, on Twitter @lernerbooks, or The Lerner Podcast. Visit www.lernerbooks.com for up-to-date details on our highly reviewed and award-winning titles for children and young adults.
---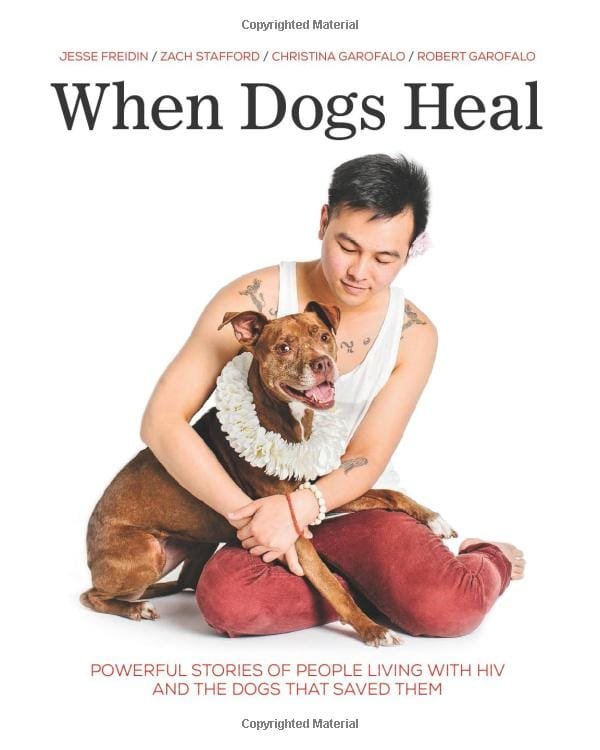 When Dogs Heal: Powerful Stories of People Living with HIV and the Dogs That Saved Them, (3/2/2021) written by Jesse Freidin, Robert Garofalo, Zach Stafford, Christina Garofalo with photography by Jesse Freidin. Three well-known leaders in their fields – Award-winning dog photographer Jesse Freidin, adolescent HIV+ specialist Dr. Robert Garofalo, and LGBTQ advocate and journalist Zach Stafford – offer a refreshing, unique portrait of HIV infused with a deep message of hope. Each extraordinary profile…